Vocal music
Alle Lust will Ewigkeit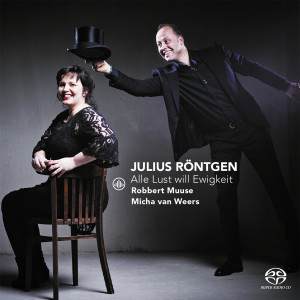 Chinesische Lieder, – Deutsche Nachdichtung von Hans Bethge, op. 66 (1916)
Galgenlieder on lyrics by Christian Morgenstern (1916)
Songs on several poems by Friedrich Nietzsche (1928)
Charon, A Modern Greek Ballad, on a poem by Robert Calverley Trevelyan (1911)
Palmström, lyrics by Christian Morgenstern (1924)
Amoreuse Liedekens, on Middle-Dutch texts, op. 29 (1889)
Robbert Muuse, baritone, and Micha van Weers, piano
Challenge Classics CC 72709
Julius Röntgen and Edvard Grieg
Psalms, proverbs and motets
Aus den Sprüchen Salomos (1929); Der erste Psalm (1929); Motetten: Wie ein Hirte seine Schafe suchet (1929), Kommet her zu mir alle (1929) en Darum so haben wir das rechten Weges gefehlet (1929). Also Psalms by Edvard Grieg
Kamerkoor Ad Libitum conducted by Frank de Groot
Kamerkoor Ad Libitum, 1913
Three Motets
Wider den Frieden. Klage-, Anklage- und Trostgesang (1920); Gleichwie die grünen Blätter auf einem schönen Baum (1929); Kommt her zu mir, alle die ihr mein begeeret (1929).
(also works by Diepenbrock and Daniël de Lange).
Het Nederlands Kamerkoor conducted by Uwe Gronostay.
NM-Classics. CD 92039.
From "Schemerliedjes" (Frederik van Eeden): Zing, mijn lieveke, zing; Eens heb ik de dalende zon gevraagd.
Frans Fiselier – baritone and Han Louis Meijer – piano.
Prometheus.
Tom Sol – baritone and Frans van Ruth – piano.
Vrienden van het lied. Geproduceerd door Sweetlove Records (Holland) SLR 9401255, 1994.
Vox Neerlandica II
Rei van Edelingen op. 49 (from Gijsbrecht van Aemstel) (1903)
(also works by Johannes Verhulst, Alphons Diepenbrock, Johan Wagenaar e.a.)
Dutch Chamber Choir conducted by Uwe Gronostay.
NM Classics 92065, 1997.
Sehnsucht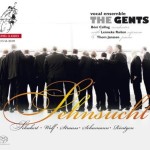 Two male choirs (1912):
– Hoffnung
– Fiesole
(also works by Schubert, Schumann, Wolff and Richard Strauss).
Vocal ensemble The Gents conducted by Béni Csillag
Channel Classics CCS SA 30109, 2009.
Order via Channel Classics