Julius Röntgen, 9 May 1855 – 13 September 1932
Introduction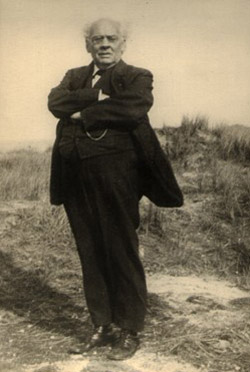 Julius Röntgen was a prolific composer. His extensive body of work, containing more than 600 compositions, consists of symphonies, concertos, chamber music in various settings, songs, works for choir and operas. After spending his childhood in Leipzig, in 1878 he accepted a position as a head teacher at the Muziekschool of the Maatschappij tot Bevordering der Toonkunst Amsterdam (Music school of the Society for the Promotion of Music, Amsterdam). He has left a mark on Dutch musical life as a composer, pianist, conductor, organiser of concerts and teacher ever since. In 1884 he co-founded the Amsterdam Conservatory of Music and first worked for this institute as a teacher and later on as managing director. In 1924, he retired from Amsterdam musical life and moved to Bilthoven in order to commit himself entirely to composing. During the last period of his life, from 1924 until 1932, he wrote in excess of two hundred works.
Biography
In November 2007 a biography of Julius Röntgen by the historian/musician Jurjen Vis was published especially for the Julius Röntgen Foundation, which was established in 2000 in honour of Röntgen's 150th birthday in 2005. This biography is ordered thematically rather than chronologically. Based on journals, diaries and hundreds of letters, Jurjen Vis delves into Röntgen's years as a student, his friends, wives, musical partners, colleagues and pupils, successes and setbacks, his religion and his German background. In October 2007 Jurjen Vis obtained his doctorate with an extended version of this biography at the University of Utrecht.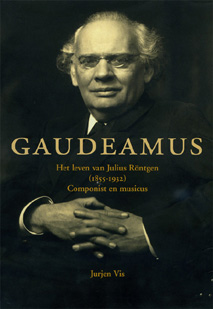 Gaudeamus, het leven van Julius Röntgen (1855-1932), componist en musicus
(Gaudeamus, The Life Of Julius Röntgen (1855-1932), composer and musician)
Jurjen Vis, ISBN 978 90 400 1870 5 (448 pages)
A few copies may still be available, please contact the author.
Sentendo nuova forza
Previously, as part of the Röntgen Year 2005, initiated by the Vereniging van Familieleden van Julius Röntgen (The Association of Relatives of Julius Röntgen), a special publication was presented containing extensive information about the composer and the activities taking place that very year in Amsterdam, Bilthoven and The Hague. The title of this booklet, Sentendo nuova forza (feeling new strength), was derived from Beethoven's String Quartet op. 132; Röntgen used this motto as a heading for his last composition, The Piano Quintet in G Major. It is symbolic for his optimistic view on life.
Sentendo nuova forza, Julius Röntgen 1855-1932.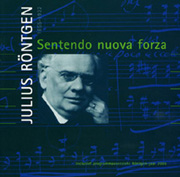 Editors: Theo Muller and Jurriaan Röntgen.  With contributions by Jurjen Vis, Emile Wennekes, Theo Muller, Julius E.F. Röntgen, Jurriaan Röntgen and others.
Available from  the Netherlands Music Institute
In the meantime the Julius Röntgen Foundation has been discontinued since the main objective, the actualisation of a biography, has been achieved. The Association of Relatives of Julius Röntgen is still active and dedicates itself to the preservation of the cultural inheritance of Julius Röntgen in the broadest possible sense.
The Association of Relatives of Julius Röntgen
p/a drs. J.E.F. Röntgen Strypsedijk 40 3234 KS Tinte
e-mail
The Netherlands Music Institute (Municipal Archive of The Hague)
postal address: Postbus 12620, 2500 DL DEN HAAG
visiting address: Spui 70, Den Haag, studiezaal Haags Gemeentearchief
e-mail
website