CD's featuring compositions by Julius Röntgen
In recent decades, especially since the Röntgen Memorial Year (2015) on the occasion of the 150th birthday of Julius Röntgen, around 70 CDs have been released with works by Julius Röntgen. Most of these recordings are readily available from various web stores and platforms, in physical or digital form, or to listen to via streaming. Unless otherwise stated, this discography usually refers to the German distribution company JPC, which has an extensive collection available. In some cases references are made to the online music library Muziekweb.nl where CDs are offered that are no longer available and a lot of useful information is to be found.
More info at Julius Röntgen on jpc.de and the selection at Muziekweb.
CD's featuring compositions by Amanda Maier
Thanks also to the increasing interest in the work of Röntgen's first wife Amanda Maier, various CD recordings of her compositions have recently been released.
Read on at Amanda Maier and Amanda Maier at jpc.de
New releases
Alle Lust will Ewigkeit : Songs by Julius Röntgen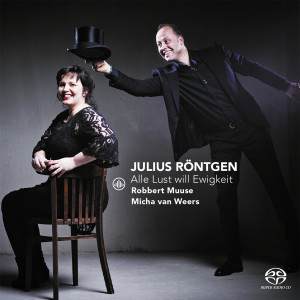 A special selection from the song repertoire of Julius Röntgen by Robbert Muuse-baritone and Micha van Weers-piano: a.o. Chinesische Lieder op. 66 (1916), Galgenlieder on text by Christian Morgenstern (1916), Songs on poems by Friedrich Nietzsche (1928), Charon, A Modern Greek Ballad, on a poem by Robert Calverley Trevelyan (1911) and Amoreuse Liedekens, on Middle Dutch texts, on. 29 (1889).
Complete string trio oeuvre of Julius Röntgen on CD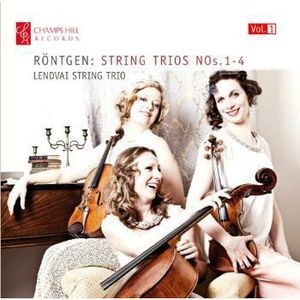 The Lendvai String Trio, consisting of: Nadia Wijzenbeek violin Ylvali Zilliacus viola and Marie McLeod cello, has recorded Julius Röntgen's complete string trio oeuvre. In the years 1915-1930, Röntgen wrote 16 works for this setting, of which only the first trio from 1915 was printed as opus 76 (1924). The other trios are in manuscript in the archives of the Netherlands Music Institute. This CD project has been made possible thanks to the prestigious Kersjes Prize that was awarded to the Lendvai Trio in 2011.
Champs Hill Records, CHRCD 068, 2013
Mark Anderson records Röntgen's piano music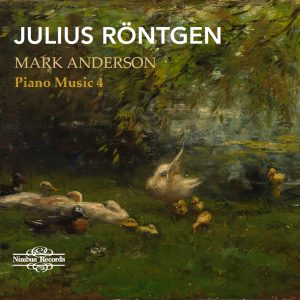 A few years ago, the American pianist Mark Anderson at the University of British Columbia in Vancouver discovered the music of Julius Röntgen. Since then, he has devoted himself to Röntgen's oeuvre for piano solo, resulting in four CDs that have been released by Nimbus Records, including the following works: Czárdàs-Variaties op. 25, Hartmann Variations op. 38, Three Romances on. 32, Neckens Polka op. 11, Three Ballads, Sonatas op. 2 and on. 10 and the Sonatine op. 63. The project will continue in the near future with recordings, together with his wife Michelle Mares, of music for two pianos.
Julius Röntgen at jpc.de
Solo compositions for violin and cello released as a CD box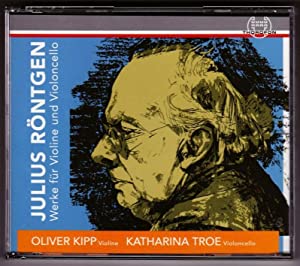 In 2015, a CD box (3 CDs) was published with the complete oeuvre for solo violin, cello solo and the duo works for violin and cello. These solo works were composed in the last period of his life, between 1921 and 1930, partly on the model of Bach's solo suites and solo sonatas for violin and cello. Oliver Kipp violin and Katharina Troe cello, from Hanover and both members of the Hyperion Trio (piano trio) known in Germany, have delved into the repertoire that has never been published before, adding a new musical document to it. the extensive discography of Julius Röntgen.