News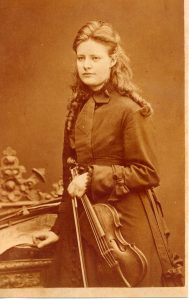 Increasing interest for the music of Amanda Maier
In recent years, the interest in the music of Amanda Maier (1853-1894), the first wife of Julius Röntgen, is on the rise. During her short life she produced a small oeuvre of high quality. It consists ofmore than25 compositions,some of which are lost. After her marriage in 1880, her musical career came to an end, and her works were never performed again.
Amanda Maier's violin concerto hits the stage after 135 years
The violin concerto of Amanda Maier was performed for the first time on December 10, 1875 in Halle (Germany) and on February 8, in Leipzig with the Gewandhaus Orchester conducted by Engelbert Röntgen. Thanks to the enthusiasm of Swedish cello-player Klas Gagge (Royal Stockholm Philharmonic Orchestra) the concert has been published again by the Levande Musikarv/Swedish Musical Heritage. This resulted in two performances in the 2014-2015 season, 135 years after it had been played for the first time in Helsinki (1879). One performance was by the Royal Stockholm Philharmonic Orchestra conducted by Sakari Oramo with Claudia Bonfiglioli, violin, on May 27, 2015.
CD-project featuring the complete works of Amanda Maier
In 2015, the Swedish label dB Productions, lead by Erik Nilsson, started a project with the aim of producing all published and non-published compositions on CD. Until now, the following CD's have been released:
Amanda Maier Volume 1 (Maier-violin concerto and piano quartet and Röntgen / Maier-Schwedische Weisen und Tänze for violin and piano)
Amanda Maier Volume 2 (violin sonata, 9 Stücke for violin and piano, 4 songs on texts by Wirsén)
Amanda & Julius (Maier-Preludes for piano solo and Röntgen / Maier-Zwiegespräche for piano solo)
Amanda Maier vol.3 (piano trio, string quartet, St. Nicholas-Schwank, Klavierstück, Preludes)
Amanda Maier, Her Life and Career as a 19th Century Woman Violinist, thesis by Jennifer Martyn
In June 2018, Jennifer Martyn received her Ph.D. from the University of Toronto with her thesis "Amanda Maier: Her Life and Career as a Nineteenth Century Woman Violinist". This is the first extensive scientific research that has appeared about her, with a focus on Amanda Maier's career as a violinist and a general consideration of the position from professional female composers and violin soloists in the 19th century. This study has been preceded by studies by -among others- Lennart Lundholm and recently Klas Gagge.
Julius & Amanda at Orgelpark
A double portrait in sound, words and images about a versatile, musically gifted couple. With: Huib Ramaer and Jurjen Vis, storytellers On October 15, 2016, the Orgelpark in Amsterdam presented a double portrait of the versatile and fruitful career of Julius Röntgen (1855-1932), his meeting in Leipzig with the Swedish violinist Amanda Maier (1853-1894) and their fourteen happy years of marriage in Amsterdam. With performances by : Robbert Muuse baritone, Micha van Weers piano, Eva Stegeman violin, Folke Nauta piano and Harmen Trimp organ.