News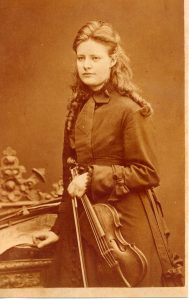 Increasing interest for the music of Amanda Maier
For several years there has been an increasing interest in the music of Amanda Maier (1853-1894), the first wife of Julius Röntgen. In her short life she left behind a small, high-quality oeuvre: over 25 works, of which a number of works have been lost (see work list Amanda Maier). After her marriage in 1880 her musical career came to an end and her compositional oeuvre fell into oblivion.
CD project with complete works of Amanda Maier
The Swedish CD label dB-Productions, conducted by Erik Nilsson, has been working on a project since 2015 in which all published and unpublished works by Amanda Maier are recorded on CD. The following CDs have been released so far:
Amanda Maier full. 1 (Maier Violin Concerto and Piano Quartet and Röntgen / Maier-Schwedische Weisen und Tänze for Violin and Piano)
Amanda Maier full. 2 (violin sonata, 9 Stücke for violin and piano, 4 songs on lyrics by Wirsén)
Anda Amanda & Julius (Maier-Preludes for piano solo and Röntgen / Maier-Zwiegespräche for piano solo)
Amanda Maier vol.3 (piano trio, string quartet, St. Nicholas-Schwank, Klavierstück, Preludes)
Couples in love and music: songs by Julius Röntgen and Amanda Maier and by Hans von Bronsart and Ingeborg von Bronsart
Amanda Maier jpc.de
CD project Mark Anderson
A few years ago, the American pianist Mark Anderson at the University of British Columbia in Vancouver discovered the music of Julius Röntgen. Since then, he has devoted himself to Röntgen's oeuvre for piano solo, resulting in four CDs that have been released by Nimbus Records, including the following works: Czárdàs-Variaties op. 25, Hartmann Variations op. 38, Three Romances on. 32, Three Ballads and the Sonatas op. 2 and on. 10 and the Sonatine op. 63. The project will continue in the near future with recordings, together with his wife Michelle Mares, of compositions for two pianos.
Nimbus Records Julius Röntgen
Interview in The Pianist, 2019 No. 4
Read an interview in The Pianist magazine with Mark Anderson during his visit to Amsterdam in September 2019.