News
JULIUS & AMANDA                                                     
A double portrait in sound, words, and images about a diverse, and musically talented couple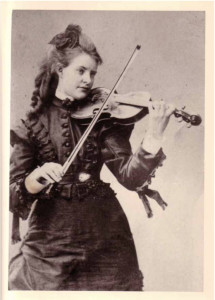 Orgelpark, Saturday October 15, 2016, 2 P.M.
Huib Ramaer en Jurjen Vis,  presenters
Robbert Muuse, baritone
Micha van Weers, piano
Eva Stegeman, violin
Folke Nauta, piano
Harmen Trimp, organ
Orgelpark presented a double portrait in sound, words, and images entitled Julius & Amanda about the diverse and creative career of composer Julius Röntgen (1855-1932) and his meeting in Leipzig with Swedish top ranking violinist Amanda Maier (1853-1894) and the fourteen happy years of their marriage in Amsterdam, that ended by the untimely death of Amanda.
Before the break musicologist Huib Ramaer was presenting a part of his programme Amanda back on Tour, assisted by Eva Stegemann and Folke Nauta. After the break, Jurjen VIs -author of the 2007 biography on Julius Röntgen- delivered a programme with songs and compositions for organ by Julius Röntgen, assisted by the duo Muuse/Van Weers and organ player Harmen Trimp. The afternoon was concluded by a panel discussion led by Orgelpark's main programmer Hans Fidom, joined by Huib Ramaer, Jurjen Vis and the musicians.
Programme 
Adagio for violin and organ, the very first work that Julius Röntgen dedicated to  Amanda, the Sonata for violin and piano by Amanda Maier, and Zwiegespräche for piano solo, followed by a series of short compositions written by Julius and Amanda together.  Julius Röntgen – Chinesische Lieder and songs on texts by Nietzsche and Morgenstern; Preludium and Fuge on BACH, and Passacaglia and Fuge on a theme by Donald Tovey for solo organ.
Het Orgelpark
Gerard Brandtstraat 26
1054 JK Amsterdam
Tel: 020 51 58 119
Web: www.orgelpark.nl
Mail: info@orgelpark.nl
Alle Lust will Ewigkeit : A selection of songs by Julius Röntgen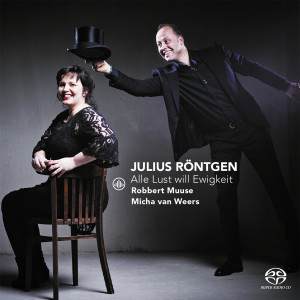 At venue Splendor Amsterdam, Baritone Robbert Muuse and pianist Micha van Weers recently presented their colourful new CD "Alle Lust will Ewigkeit", with a special selection of songs by Julius Röntgen. Röntgen composed a few hundred songs during his life. As a pianist he performed with many famous singers. He initiated the recital concerts in the then newly built Concertgebouw.
Robbert Muuse and Micha van Weers played some of the songs during the presentation, musicologist Huib Ramaer introduced the composer and his works. Röntgen's grandson Jurriaan Röntgen got the honour of receiving the very first CD.
Solo compositions for violin and cello released as a CD box

The complete range of compositions for violin solo, cello solo and the duets for violin and cello have just been released as a CD box (3 CD's). Röntgen had been very much familiar with the range of string instruments, especially the cello and the violin. His works of chamber music for strings tend to belong to the best of what he has ever written. These solo works he composed in the last stage of his life, between 1921 and 1930, and are partly based on the solo suites and solo sonatas for violin and cello by Bach.
Oliver Kipp-violin and Katharina Troe-cello, both from Hannover (Germany) and members of the famous Hyperion Trio (Piano Trio), have been busy working on this repertoire that has never before been published. With the release of these CD's a new and unique musical document has been added to the already vast collection of recordings of works by Julius Röntgen. Read on…
Mark Anderson plays Röntgen's piano music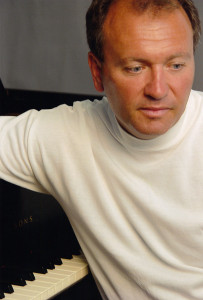 The gifted Canadian pianist Mark Anderson has released two CD's with piano music of Julius Röntgen, on Nimbus Records. Anderson about Röntgen: "Röntgen's piano music is highly beautiful, charming and often truly expressive. It speaks a polished German-romantic dialect and his highly developed compositional skills meet with musical inspiration at many points throughout his work. It is neglected music that is now available and should be heard."
Some of the works featured on these albums:
Suite in Four Movements, Op.7 (1873)
Variations and Finale on a Hungarian Czardas, Op.25 (1885)
Three Romances, Op.32 (1904)
Buiten, Op.65 (1919)
Solo repertoire for violin and cello on CD
Early 2015, a CD-recording project will kick off with the complete works for violin and cello solo by Julius Röntgen, performed by Oliver Kipp (violin) and Katharina Troe (cello), two well-known musicians from Hannover and Göttingen, both members of the renowned Hyperion Trio (with pianist Hagen Schwarzrock). The programme consists of the 3 Suites and 3 Sonatas for violin solo (1922), the Sonata and the 2 Suites for cello solo (1930), "Two Rhapsodies on American Negro Songs" for cello solo (1927), the Sonata for violin and cello (1925) and the Variations on a Theme by Karl Michael Bellmann for violin and cello: 3 cd's in all, produced by the German label Bella Musica.
The Lendvai Trio embark on a series of CDs of the complete String Trios by Dutch composer Julius Röntgen (1855-­‐1932)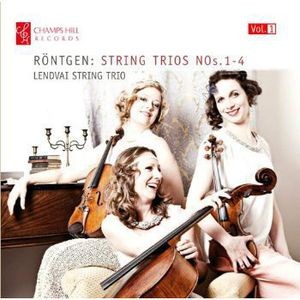 The trio's journey began in 2007 when they stumbled across Röntgen's first string trio (the only one published to date), and soon after discovered that there are fifteen more, carefully stored in handwritten manuscript form in the Netherlands Music Institute in the Hague. A major award -­‐ The Kersjes Prize -­‐ and support from Champs HIll Records has enabled this project to be realised. A unique feature of these works is its numerous references to traditional Dutch tunes and dances. Roentgen's interest in folk music was largely due to his friendship with Edvard Grieg, with whom he traveled through Norway in search of Norwegian folk songs. For Röntgen it became important to do the same for the traditional music of Holland, and he considered the dissemination and popularization of his national music as one of his most important tasks. The Lendvai Trio are: Dutch violinist Nadia Wijzenbeek, Swedish violist Ylvali Zilliacus and British cellist Marie Macleod. Since their Wigmore Hall debut in 2006, the Lendvai String Trio has had a busy schedule of concerts at major venues throughout Europe, including several re-­‐invitations to Wigmore Hall, recitals at King's Place, the Barbican and Purcell Room in London, the Concertgebouw in Amsterdam and Musikaliska in Stockholm. Source: Champshill Records
First performance of violin concerto by Amanda Maier after 135 years
Amanda Maier (1853-1894), first wife of Julius Röntgen, composed a violin concerto which she premièred very successfully in 1876 in Leipzig with the Gewandhausorchester conducted by Carl Reinecke.  Also during concert tours in Germany and the Scandinavian countries this work was received with great enthousiasm, as well as the virtuoso performance of the composer herself. By getting married her musical career came to an end and the violin concerto felt into oblivion. Thanks to the work of the American conductor and musical scholar Mark Starr the concerto has recently been published again  by Noteworthy Musical Editions, not only in the original version but also in an arrangement for violin and piano. As a result of this publication, two performances are due to take place in Sweden in the coming season 2014-2015, 135 years after the concerto was being performed for the last time:
November 20, 2014, Karlstad "Music from the age of The Union" Wermland Opera Orchestra conducted by Halldis Rönning, Bjarne Magnus Jensen-violin
May, 27, 2015, Stockholm Royal Stockholm Philharmonic Orchestra conducted by Sakari Oramo, Claudia Bonfigliolo-violin
Offenburg String Trio on CD: The Late String Trios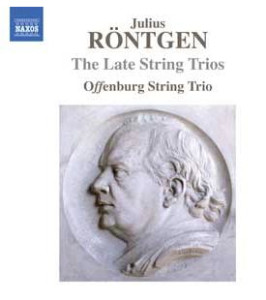 On July 27, 2014 this new CD was presented to the public during a live performance of the Offenbach String Trio at the Offenburger Kreuzgang Concerts in Offenburg, Germany.  The Badische Zeitung wrote about the concert: "The Andantino sounds marvellous, with a magical, rhythmic pattern on the cello, almost like the distant beating of a drum. The piece starts off in a rather dark setting, but soon changes into a heavenly realm, pressed by a sweet undertone full of hope. The Scherzo, with pagan elements is played with artistic zeal, bordering on comedy. A 'Finale Automobilistico' even appears in the Trio #15, with powerful dissonant notes, and the cello humming like a real engine, while the viola is imitating a blowing horn. Cello-player Martin Merker discovered these works in the private archive of Julius Röntgen, grandson of the composer. Röntgen had traveled to Offenburg from Holland, exclusively for this occasion. With the audience he shared some memories to his grandfather, just before the concert."
Offenburg String Trio  Naxos  8573384
String Trio No. 13 in A major (1925)
String Trio No. 14 in C minor (1928)
String Trio No. 15 in C sharp minor (1929)
String Trio No. 16 in C sharp minor (1930)
Frank Schilli – violin; Rolf Schilli – viola; Martin Merker – cello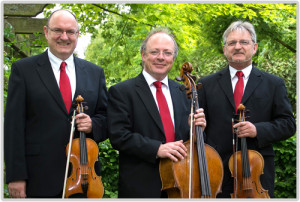 Röntgen's symphonic works recorded on CD
The entire symphonic oeuvre of Julius Röntgen has been recorded on CD by the German record label CPO. It consists of 21 symphonies, seven piano concertos, three violin concertos, three cello concertos, symphonic poems and several other works. "Everything I know of his, has quality", says artistic director Burkhard Schmilgun of CPO. "I do not understand why Röntgen has sunken into oblivion the way he has. Röntgen was a European figure. He internationalised Dutch musical life. All recordings are conducted by David Porcelijn. This ensures artistic unity". CPO collaborated with three German orchestras, a Swedish orchestra and with the Orkest van het Oosten (The Netherlands Symphony Orchestra) in Enschede for the cello concertos (soloist: Gregor Horsch). The first CD has been released with the Staatsphilharmonie Rheinland-Pfalz in Ludwigshafen. The other German orchestras are the Brandenburgische Philharmonie in Frankfurt a/d Oder and the NDR-orchestra from Hannover. The piano concertos are played by Naum Grubert. For the violin concertos Schmilgun contracted Liza Ferschtman. Presumably some ten CDs will be necessary to accommodate the entire body of work. Schmilgun: "Most symphonies are made up of one part only and take no longer than fifteen or twenty minutes. They are more like symphonic poems." This project came about in close collaboration with the Nederlands Muziek Instituut (NMI) in The Hague, the institute where Röntgens musical inheritance is kept. Not all works have been published. They are being made print ready by John Smit. CPO catalogue on Julius Röntgen